Pin It Now!
Thanks to
White Lights on Wednesday
and
Four Marrs One Venus
for hosting this awesome cooking challenge called Get Your Chef On. This challenge's secret ingredient is Peanut Butter. I have decided, with wonderful encouragement from my husband, to make Peanut Butter and Jelly French Macarons. I eat so much peanut butter I am ashamed to admit it. Unfortunately, all my peanut butter recipes I had were already posted by me previously, so here is a simple use of it, in a fancy package, but the peanut butter is the star, with its rich creamy flavor, countering the macaron and jam sweetness.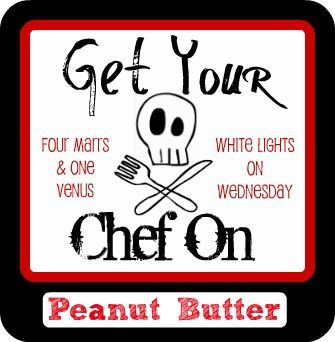 Make sure to visit the wonderful hosts of this fun challenge at:
Jen @ Four Marrs One Venus
And check out all the other GYCO participant entries at the bottom of this post.
Delicious peanut butter and jelly filling just peeking out of the macarons.
I recently published a blog post on Macarons 101. I love making macarons, and I think that their beauty and flexibility for flavors and colors makes any frustration from learning how to get them to come out successfully, worth it. Make sure to check out my
Macarons 101
post for all sorts of tips, tricks, and clarifications that I am not including here. I hope you will give these a try, they are so much fun, and whether or not they come out perfect, they still taste crazy good and are fun to eat.
PEANUT BUTTER AND JELLY FRENCH MACARONS

Ingredients:

120g almond meal**
200g powdered sugar
3 large egg whites
30g granulated sugar
Sprinkle of salt (or cream of tarter, or lemon juice, see directions)
Food coloring gel

Filling:

3/4 to 1 cup natural peanut butter (chunky or smooth, your choice, but smooth will pipe better)
1/2 cup jelly, jam, or preservers (I used boysenberry preserves)

Topping:

Finely chopped peanuts--Please keep in mind though, if you put these on them, it may cause them to look cracked on top. If you are striving for perfection, leave them off. If you want a nice texture and salty little
punch, add them.

**Almond meal from somewhere like Trader Joe's has the almond skin ground up in the meal, adding a speckled look to the final product. If you are doing light colored macarons and do not want any speckling, get slivered almonds and pulse them up in a food processor to break them down into rough meal, and then add the powdered sugar and pulse until it is a fine powder.

Equipment:

2-3 baking sheets lined with parchment paper
Food scale
Fine mesh sifter
Stainless steel or copper bowl
Piping bag and any fairly wide round tip, or a gallon ziploc bag
Macaron piping templates
Note: Prep is important!
Make sure you have everything you will need all ready to go before you beat the egg whites. Once that is started, things go quick.
Line 2-3 heavy gauge aluminum baking sheets with parchment. Prep a piping bag with a round tip. I place the bag into a tall drinking glass and cuff the bag's opening over the top, this makes the bag easy to fill hands-free.
Here I have macaron templates that I printed out, under the parchment paper. Please just don't forget to remove them before you stick them in the oven, like me.
Weigh out almond meal and powdered sugar and sift together to remove any clumps. (If you own a food processor, I highly recommend blending the ingredients and then sifting, but I made my last batch with just sifting and they came out great, your choice.)
Sifted almond flour and powdered sugar. See the brown speckles? This is the outer part of the almond, and if you want the perfectly uniform looking macaron with no speckles, then grind your own slivered almonds that do not have the skin on them. This is almond meal from Trader Joe's.
Place the egg whites into a large mixing bowl (stainless steel or copper), if you're using stainless feel free to add a pinch of salt, 1/4 teaspoon cream of tartar or couple drops of lemon juice to help strengthen the whites (I use salt). If you're using copper you need not and should not add any additional acid (more on this below).
Weigh out the granulated sugar.
Begin beating the eggs on low speed. What you're doing here is unraveling the egg white's proteins (these are what will capture the air bubbles you whisk in), they're bundled up and you need to gently unwind them. A light touch does this far better than scrambling them on high speed. Once the egg whites are very foamy, begin sprinkling in the sugar as you beat. Increase the speed to medium, if necessary, and beat the meringue to stiff glossy peaks. (If they start looking grainy, clumpy or dry, you've gone too far.) You should be able to turn the bowl upside down and have them go...No where.
This is a stiff peak :)
Add the food coloring (for the full recipe it usually takes 2-4 drops of gel, for a half batch 1-2 drops does the trick). Add all of the almond/sugar mixture and fold in until no streaks remain. The resulting batter has been said to resemble molten lava.
Three drops of red food coloring gel, not liquid food coloring. I could have probably used one more drop.
When you start mixing, it looks crumbly and dry. Keep going.
Getting closer, little bit more needs to get incorporated.
See that ribbon of batter coming off the spatula? People liken the correct consistency to that of molten lava. This is my interpretation of molten lava. Falls in a very ribbon like fashion.
Pour the batter into your prepared piping bag and pipe rows of batter (this is where the templates come in real handy, just place them UNDER the parchment paper, and don't forget to take them out before baking) onto the baking sheets, giving them space to spread. If you do not have a piping bag and tip, then fill a gallon ziploc bag and cut the tip off, leaving about a half inch wide opening with which to pipe.
Have this all set up in a tall glass before you start, with the end twisted so that the batter doesn't come out. Makes pouring batter in so much easier.
Tap the pan on the counter to bring up any air bubbles and quickly pop them with a toothpick. Sprinkle the top of the batter with the finely chopped peanuts if you desire.
Even with a piping bag I don't get perfect circles. Don't worry, they taste just as good.
Allow the cookies to rest on a level surface for 20-60 minutes, until they are no longer tacky to a light touch. If you have problems with burst shells, you may need to allow them to rest longer. If it is humid, it may take much longer, if it is hot, it may not take very long.
When they are dry to the touch, and not tacky any more, they are ready to go in the oven.
While they rest, place an oven rack in the middle of your oven, and one below that. On the lower one place an empty baking sheet, this acts as a heat shield. Preheat to 275-310°F (I've had the most success with about 295°F). I do not use fan-forced (convection) heat. If your oven tends to brown the cookies, consider placing a rack in the top of the oven with a baking sheet on it to shield the cookies.

Bake the cookies for 16-22 minutes, or until firm and they come off the parchment or silpat easily and fairly cleanly when slightly cooled. If you try this when they are still in the oven, they may leave their insides on the paper even though they are actually cooked through. When you push lightly, the feet should not move or squish, this is the best indication of doneness. They have been cooked an appropriate amount when they are easily removed from the parchment paper after cooling. If they cooled and still stick, then bake the next batch longer. Don't be afraid to bake them until they are done. Aging fixes over baked shells, under baked shells can't be fixed.
While they are baking, warm the peanut butter up just enough so it is loose enough to get off of a measuring spoon and onto the macaron without having to push or pull on the macaron at all.
Yum!
When they are done, take them out, let them cool a few minutes and move them to a baking rack or clean piece of parchment. Match like sizes and shapes in pairs, and fill with filling. Dollop about a 1/4 to 1/2 tsp peanut butter on to one half, and then dollop 1/4 to 1/2 tsp of jelly, jam, or preserves in the center of the peanut butter, being careful not to over fill. Put the matching side on, press down until the filling just reaches the edges and let them set up for a bit so the filling doesn't run out. Store in an air tight container in the fridge, or place in freezer. Enjoy after aging for 24-48 hours, unless using a very moist filling that you are planning to consume immediately.